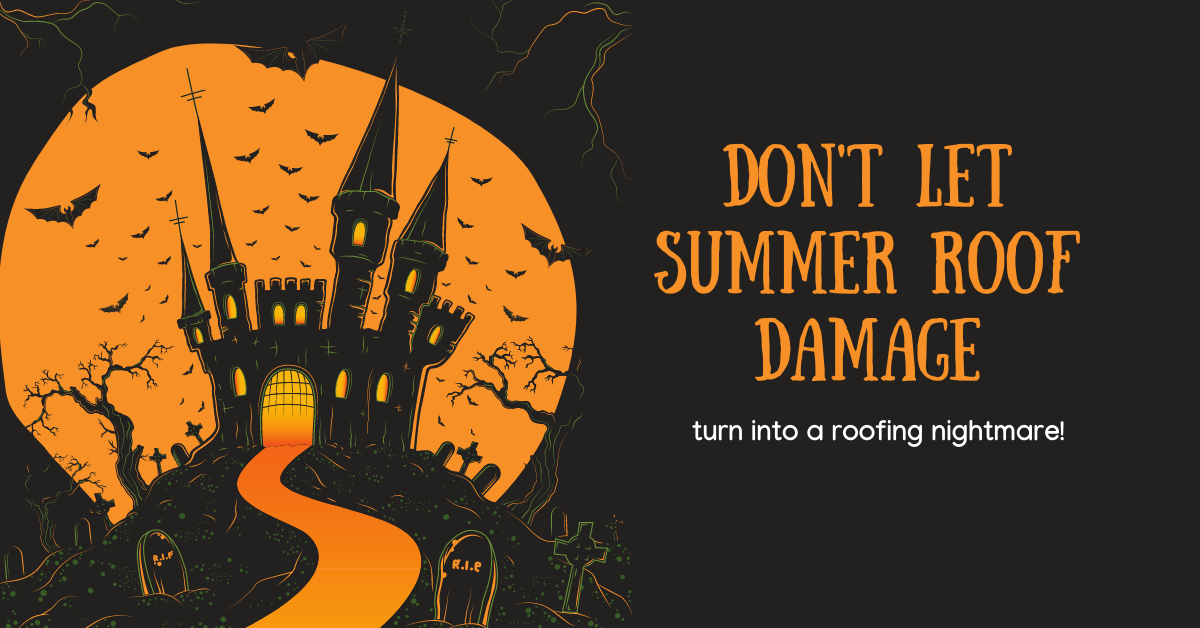 It's official – fall is here and that means we have survived another scorching Idaho summer! While cooler temperatures may be a relief, it could mean additional problems for your roof and home. 
If your home was hit by severe weather this summer, who knows what might be lurking up on your roof? Blisters, hail damage, curling, or missing shingles… or worse hidden roof leaks. If left unrepaired this damage might come back to haunt you this fall in the form of costly repairs and let's face it, nobody wants to deal with that this holiday season. 
If you have not yet scheduled a yearly roof inspection, now's the time. Read on to learn what signs to watch out for and how a quick free roof inspection can actually save you money!
Signs Of Spooky Roof Damage 
Did you know your roof is the single biggest element of protection for your entire home? It is a lot like an umbrella in that it protects everything underneath it from anything Mother Nature can throw your way. That's why seasonal roof inspections are so important! As we move out of summer and into fall and winter, now's the time to check for any signs of damage to get small issues fixed before they turn into full-fledged roofing nightmares.
Most roof damage starts out small but gets bigger and bigger over time. This is why homeowners don't even realize they have a roof problem until they start seeing water drip through their ceiling. One easy way to prevent this is to routinely check the exterior of your home, especially your roof. Here are just a few of the warning signs:
Missing shingles – even one can lead to a roof leak

Shingle granules or pieces of roofing tiles at the base of your gutter downspouts

Signs of water damage in your home or attic

Signs of daylight in your attic

Dents or damage on the surface of your windows, siding, and roof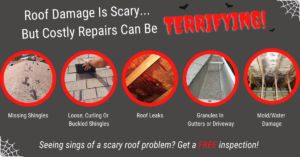 All of these could mean that a roof problem exists, and you should get a professional inspection right away to determine the best course of action. The sooner you get roof problems fixed the better (and less expensive) it will be!
Hidden Roof Damage Can Give You The Heebie-Jeebies
If your home was hit by major storms this summer, hidden damage could be lingering that will come back to haunt you. When hail damages a roof, it weakens its ability to protect your home from water, wind, snow, etc. If left unrepaired, hail damage can lead to more costly problems like roof leaks.
Insurance companies understand how important a fully functional roofing system is, which is why hailstorm damage is covered by most policies.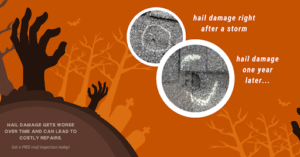 Waiting to get a proper inspection after a storm is never a good idea. Most insurance companies believe it is the homeowner's responsibility to maintain their homes and take steps to prevent leaks. Therefore, if you wait until your roof is leaking to make a claim, you could be footing the bill for all the major repairs. 
Don't Be A Bone Head, Get An Inspection Today!
Roof damage is scary, but costly repairs can be terrifying! Call Briggs Roofing today at 208-745-9002 to schedule a free inspection to ensure your roof is ready for winter. Don't forget to follow us on Facebook for news and updates!